The Best Place To Buy Or Sell Secondhand Catering Equipment, Coolers, Glasses, Bars
Search
New B Grade Buffalo CP240 BBQ Griddle. Large, powerful and exceptionally versatile, the Buffalo propane barbecue grill and griddle combi allows you to serve large quantities of delicious BBQ food on the move. The left side is a three burner char grill, enabling the cooking of succulent burgers, steaks and skewers, whilst the right hand side features a large steel plate griddle, ideal for bacon, eggs, onions and other griddled food.
£350 +VAT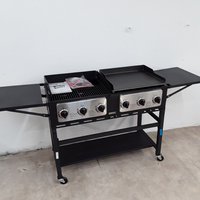 This oven can cook a pig up to 80kg.
Can also be used for joints, chickens, or jacket potatoes.
Oven will come with a gas test certificate.
Excellent condition, hardly used.
Hog roast oven used only a handful of times, comes with tray to cook pig, and brackets to rest on top of oven.

£1975

£1777 inc. VAT The cooking tops are easily changed so chargrill can be used or a grill with 8mm bars with flame-cover. A deep pan can also be bought if required.
All spare parts can be bought direct from the Manufacturer in Germany. New Price is £4000.
The unit comes with a stainless steel stand and adjustable legs. Two flat griddle tops and one chargrill top.
23kw gas power.
This unit can run on lpg gas or natural gas, a simple screw adjustment on the valve is all that is required.

A Thousand burgers a day is well within it's capacity.
Keeping it simple has held the TG160 status as the legendary 'Workhorse of the Industry', anywhere from 48hrs non-stop throughput at Glastonbury Festival, to hot kipper buns on a traditional fishing dock, to presenting Gastronorm containers at a golf club terrace buffet.

Runs perfectly. MOT until April 2018. Mileage is about 112k.
VAN ALSO SUITABLE FOR BURGERS, HOG ROAST, INDIAN, THAI AND OTHER CUISINES.
We are selling our converted Mercedes Sprinter Catering Unit. Since the conversion the van has been used to cater Caribbean cuisine however, it can be easily used for any other cuisine.
Perfect for Markets, Festivals, Outdoor events and Private catering.
This trailer was custom built by a specialist stainless steel manufacturer for our business in 2009 but is now surplus to requirements. It has two alloy wheels with good tyres. It was last used in August 2015 and worked well. The oven runs on propane and has an enclosure at the front to store & transport two bottles. These work independently and can be adjusted accordingly- IE the back burner could be set to burn hotter than the front, or vice versa, or both set the same.
£2750 +VAT ono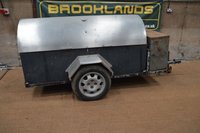 Showing 1 - 14 of 14 items