The Best Place To Buy Or Sell Secondhand Catering Equipment, Coolers, Glasses, Bars

Search

offering the perfect espresso every time. These machines look smart and offer great coffee with ease.
Coffee Machine Capitani Multi Cap Capsules is a coffee machine and cappuccino that allows you to quickly change the aroma of coffee and then adapt to suit all tastes, it has immediate use and not only costs less than conventional traditional coffee machines, it has a excellent value for money.
These machines are ideal for small coffee shop, restaurant, bar, mobile catering.
£550 +VAT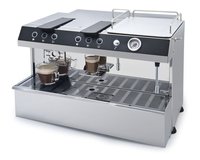 Showing 1 - 3 of 3 items