The Best Place To Buy Or Sell Secondhand Catering Equipment, Coolers, Glasses, Bars
Search
The innovative Robata Flame Grill offers instant gas fired cooking with the ability to accommodate charcoal or lump wood for additional aroma and flavour whilst the even heat distribution system ensures products are cooked to the highest quality. The three cooking tiers makes searing, cooking and resting effortless whilst ensuring foods are cooked to perfection. Additionally the free standing flame grill comes complete with a shelf with two 1/3 GN containers which is perfect for holding water or marinades ready for use on meats. This is a top quality piece of equipment which will leave a lasting impression on your diners.
£3500 +VAT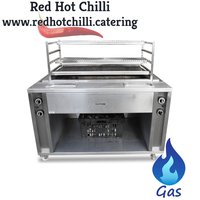 Recently PAT tested
Included
26 stones


15 plates


shovel and rock
Black Rock Grill is a unique customer experience that will have customers coming back for more! This product can work with your current menu, making this an easy transition for your restaurant, ship, or resort.
You can grill meat, fish, vegetables, burgers, bhajis and pakoras.
BR30 black rock grill hot stone oven used but good condition
£1000 +VAT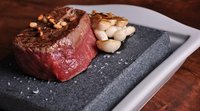 £1000

£800 VAT Free ono Showing 1 - 4 of 4 items