The Best Place To Buy Or Sell Secondhand Catering Equipment, Coolers, Glasses, Bars
Search
Showing 1 - 6 of 6 items

Electrolux Air O Steam 20 Grid Combi Oven
Make: Electrolux
Model: Air O Steam
Type: 20 Grid Combi Oven with Trolley
Power Supply: 3 Phase Electric (63 amp) or Natural Gas (3/4 inch hose)
Working order: This oven is fully working and serviced by our catering engineer
PLEASE CALL AT ANY TIME SO WE CAN RECOMMEND THE BEST COMBI OVEN FOR YOU
£2800 +VAT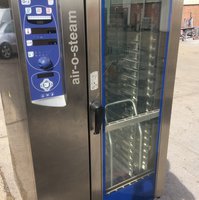 Double Glazed oven door for reduced heat dispersion into the kitchen and low external oven temperatures
Gas (LPG or Nat)
These ovens have come from a 'meals on wheels' charity which has recently closed for business. In very good condition and in full working order and has only been used for 2-3 hours a day for regenerating frozen food. Ideal for Baking/Roasting
£2595 +VAT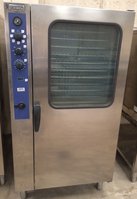 The CPC is arguably the most reliable and regarded combi oven on the market. Chef can control cooking method, temperature, humidity and time using the same controls.
It has a rack that can be removed from the oven and wheeled around the kitchen.
Rational CPC 20 grid -The CPC oven is a fully automatic & intelligent cooking machine that will save time and labour, an oven that can work unsupervised, you can also retain full control of the entire cooking process.
£3995 +VAT
Showing 1 - 6 of 6 items