The Best Place To Buy Or Sell Secondhand Catering Equipment, Coolers, Glasses, Bars
Search
Showing 1 - 6 of 6 items

Power: Electric 13A
Dimensions: 600 x 490 x 400
Description: Dries, polishes and removes lime scale stains from cutlery after washing, Fully automatic, Stainless steel body and polishing tank, Rounded cutlery carousel, avoiding cutlery jams, Economy: saves on personnel costs and quick return of investment, Speed: hourly output of up to 3,000 pieces, Hygiene: the germicidal UVC-ray lamp sterilises both the cutlery and the polishing product.
B Grade Sammic Cutlery Polisher Model: SAMM3001
£500 +VAT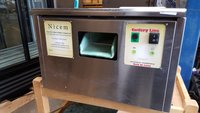 Good condition has had little use.
Good labour saving piece of equipment.
Frucosol SH-3000.
£1599 VAT Free Showing 1 - 6 of 6 items