The Best Place To Buy Or Sell Secondhand Catering Equipment, Coolers, Glasses, Bars
Search
Showing 1 - 6 of 6 items
Moduline FS282E double oven cook & hold.
£1400 +VAT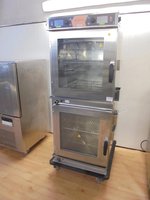 FWE Low Temperature Cook & Hold Ovens produce a superior product. With radiant and gentle air circulation, foods cook with natural browning - no additional browning agents or rubs are required! Food juices are retained inside the meat so there is less shrinkage. Vegetables retain their rich color and nutrition. Breads, rolls, desserts, apple pie and cookies brown evenly for a golden presentation.
£650 VAT Free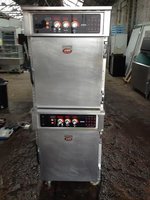 Close temperature tolerance and even heat application maintains ideal serving temperatures throughout the cabinet
Holds all types of food - meats, poultry, potatoes, fish, vegetables and casseroles - fresh, flavourful and hot
Non magnetic stainless steel interiors resists corrosion
Halo Heat is a controlled, uniform heat source that gently surrounds food for better appearance, taste, more moisture and longer holding life
£6800 +VAT ono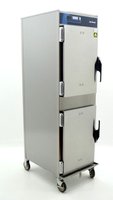 This supreme Alto Shaam cook and hold oven is the perfect addition to any busy commercial kitchen. Exceptional value for money, this cook and hold oven is a state of the art, energy-efficient appliance with cutting-edge technology to save you time and money in the kitchen. With a series of user-friendly features including SureTemp™ immediate heat recovery, eight recipe memory programmes, and an internal temperature probe, this Alto Shaam oven produces uniform results every time. With a stacked cooking capacity, this vertically-designed product will also save you space in your kitchen. Available with 3 months parts and labour warranty.
All we be pat tested before we it leaves our warehouse
Click here for more products from Roneford Catering
100 lb (45 kg), 10 Full-Size/GN Pans capacity
£699 +VAT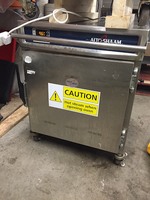 Showing 1 - 6 of 6 items