The Best Place To Buy Or Sell Secondhand Catering Equipment, Coolers, Glasses, Bars
Search


In white gloss finish. Ideal for take away burger / kebab / chip shop self clearing station bin.

H122cm x W50cm x L100cm.

The storage unit has two doors, one for the bin and one for storage. It has 5 slots on top ideal for napkins, sauces, and other condiment storage. It has space to put trays on top and includes a bin flap.

Excellent condition, has only been used for the past 9 months.
Bin and storage unit for cafe or restaurant or take-away use.
£185 VAT Free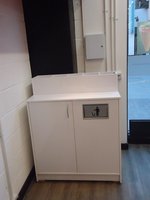 £125 inc. VAT ono each Showing 1 - 3 of 3 items