The Best Place To Buy Or Sell Secondhand Catering Equipment, Coolers, Glasses, Bars
Search
---
Bain Marie Single Pot • Bain Marie Double Pot • Bain Marie With Three Pots • Bain Marie with Many Pots
---
Used Buffalo S007 Bain Marie Wet 4 Pot. The Buffalo bain marie is the ideal appliance for reliably keeping food warm for extended periods. Perfect for both front of house and back of house use, the bain marie uses wet heat to gently warm food without drying out or burning. For safety, the unit features a built in boil-dry cut-off, helping to protect the internal components if the water runs out.
£140 +VAT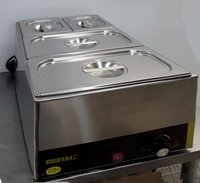 Dry Bain Marie 600deep 450 wide
Complete with 4 round pots and lids
Single 13 amp plug
In excellent condition. Little used.
Lincat 4 pot table top Bain Marie:
£100 +VAT ono This is a fully working Lincat 4 pot wet well bain marie in great clean condition
£150 inc. VAT ono Showing 1 - 15 of 15 items