The Best Place To Buy Or Sell Secondhand Catering Equipment, Coolers, Glasses, Bars
Search

This particular peeler peels around 7LB of potatoes efficiently.
It's ideal for takeaways, pubs and restaurants.
This peeler works however the top hat is missing and needs a new drive shaft, motor and plates are fine, spending some time and effort on this peeler will save you a lot of funds.

Brand New Imettos 201002 Potato Peeler Rumbler 15 L. iMettos Potato Peelers are designed to produce perfectly peeled potatoes and root vegetables with the least time and effort. The iMettos range of potato peeling machines are constructed from food grade, non-corrosive stainless steel castings, with the spindle housing and chute cast integrally, eliminating joints and possible leakage. Can be sinktop, pedestal or trolley-mounted, are easy to install and clean.
£880 +VAT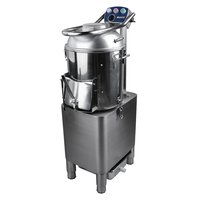 Powerful direct gear drive motors.The 28lb peelers have 0.5hp geared units
Low or high (sink height) pedestal models available
Designed to enable the user to operate, clean and maintain with the minimum of effort
Bought it on 2014, good condition.
Metcalfe Commercial Pedestal Peelers
£950 inc. VAT It can take 10lb of product. Easy to install and use.
Directable cylinder. Integral control panel complete with on/off push buttons and a 0-6 minute timer.
13 amp power required.
Aluminium body potato peeler. Abrasive peeling. The abrasive is highly resistant and long lasting.
Base Plate and chamber walls lined with abrasive.
Aluminium body.
PPC: Equipped with attachment drive to power accessories.
In immaculate condition and barely used. This is Sammic powerful sink/table top vegetable/Potato peeler.
£650 VAT Free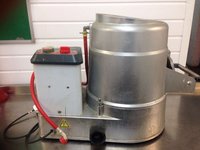 Showing 1 - 14 of 14 items