The Best Place To Buy Or Sell Secondhand Catering Equipment, Coolers, Glasses, Bars
Search
Showing 1 - 7 of 7 items

Use this handy tempered glass lazy Susan in the kitchen, the dining roomor even in the living room to hold game needs or snacks for the big match.
Convenient swivel design ensures ease of use and makes it handy for holding a number of items and having them at hand when needed. Glass design for fast and easy cleanup.
Turn-table rotates 360 degrees in any direction. Heat Resistannt.
£20 VAT Free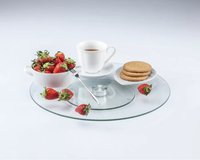 2 tier Crystal Lazy Susan can ideally fit both 5ft & 6ft Round Table. Many Caterers and Venues have mix of these tables, so to make the Lazy Susan more adaptable, The Crystal Lazy Susan that has a lower base of lesser diameter which makes it house plates and cutlery more comfortably, while the upper level is of bigger diameter which can still house 8 bowls perfectly and drinks. In addition, the converging design from top to bottom makes it look fantastic, so is the name Converging Crystal Lazy Susan.
Showing 1 - 7 of 7 items