The Best Place To Buy Or Sell Secondhand Catering Equipment, Coolers, Glasses, Bars
Search
Showing 1 - 6 of 6 items

Make: Electrolux
Model: Air O Steam
Type: 20 Grid Combi Oven with Trolley
Power Supply: 3 Phase Electric (63 amp) or Natural Gas (3/4 inch hose)
Dimensions: W 895mm x D 850mm x H 1780mm
Working order: This oven is fully working and serviced by our catering engineer
Cosmetic Condition: excellent cosmetic condition
Electrolux Air O Steam 20 Grid Combi Oven
£2800 +VAT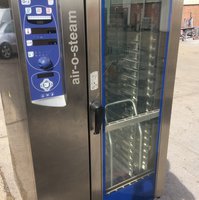 Double Glazed oven door for reduced heat dispersion into the kitchen and low external oven temperatures
Gas (LPG or Nat)
Height adjustable legs.
All connections made on the left side below the oven.
Click to see full listing and contact details
These ovens have come from a 'meals on wheels' charity which has recently closed for business. In very good condition and in full working order and has only been used for 2-3 hours a day for regenerating frozen food. Ideal for Baking/Roasting
£2595 +VAT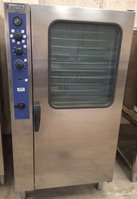 Angelo Po 20 grid combi oven.
£2750 +VAT

£840 +VAT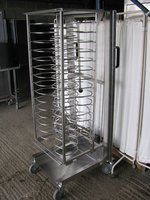 The CPC is arguably the most reliable and regarded combi oven on the market. Chef can control cooking method, temperature, humidity and time using the same controls.

It has a rack that can be removed from the oven and wheeled around the kitchen.

W90cm x D80cm x H182cm

Natural Gas 44kW Gas required

All of our equipment is fully tested and cleaned by professionals.
Rational CPC 20 grid -The CPC oven is a fully automatic & intelligent cooking machine that will save time and labour, an oven that can work unsupervised, you can also retain full control of the entire cooking process.
£3995 +VAT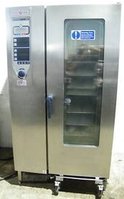 Showing 1 - 6 of 6 items