The Best Place To Buy Or Sell Secondhand Catering Equipment, Coolers, Glasses, Bars
Search
Showing 1 - 5 of 5 items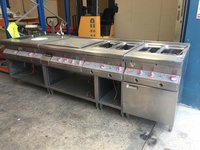 Price: £350 ono including VAT
This stunning, in great condition, waiters station is up for sale. It was super expensive and the marble is great quality. Selling due to no space for it. Was custom made for a 5 star hotel. Would look amazing in a house or restaurant as a bar or serving station.
Length - 2540
Height - 1180 with a 150 upstand
Depth - 680
(mm)
Total Bargain!
Click here for more info and contact details......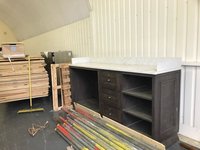 Price: £185 VAT Free
Bin and storage unit for cafe or restaurant or take-away use.

In white gloss finish. Ideal for take away burger / kebab / chip shop self clearing station bin.

H122cm x W50cm x L100cm.

The storage unit has two doors, one for the bin and one for storage. It has 5 slots on top ideal for napkins, sauces, and other condiment storage. It has space to put trays on top and includes a bin flap.

Excellent condition, has only been used for the past 9 months.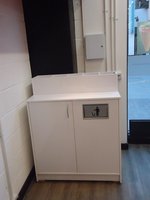 Price: £120 +VAT
Ideal for take always and self service restaurants.
Can accommodate large refuse bin.
Has a large tray storage area on top and refuse disposal flap to access the bin.
W78cm by 75cm deep by 130cm tall
Click here for more products from Roneford Catering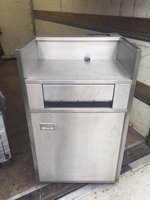 Showing 1 - 5 of 5 items